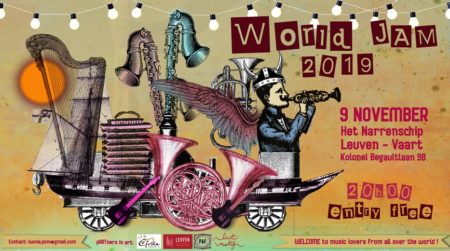 Welcome to music lovers from all over the World !
Ben je zelf muzikant? Ken je muzikanten uit andere delen van de wereld?
Kom dan in november 2019 naar World Jam in Leuven om samen met een internationaal gezelschap te jammen en muziek te maken.
Onze omgeving is super divers en deze rijkdom willen we koesteren.
Laat ons samen spelen en co-creëren – we zijn benieuwd om te zien welke muziekstijlen zullen ontstaan.
Alles is mogelijk!
We kijken uit naar dit ontmoetingsmoment met muzikanten uit verschillende culturen tijdens de eerste World Jam in Leuven!
Our evening starts at 20:00 with an opening concert and is followed with World Jam – till the late night/early morning !